---
Toyota: ad for the GT86 model offers thrills aplenty and is beautifully paced
By Steve Hastings, planning partner, Isobel, marketingmagazine.co.uk, Tuesday, 18 September 2012 11:41AM
Back in the age when I could still remember the taste of semolina - we're talking the 80's - we were young, foolhardy and had the world in front of us. All we had to do was to carry on being our brilliant selves and we would be rich and famous.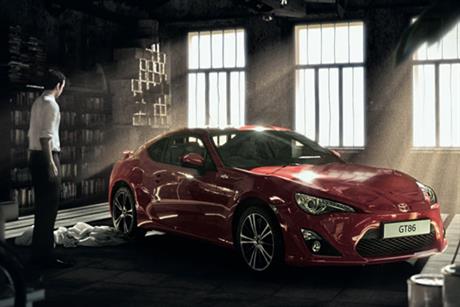 Then bang, we were bought by another agency and all lost our jobs. Mired in gloom, the creative director and I talked about what to do. I went freelance. He said, 'I'm going to Hollywood to do film'. Well, he was certainly talented, original, sharp and determined but Hollywood seemed the place for the Gods, not anyone I knew. I wished him luck. A few years later there he is, on my TV, sitting in the front row of the Oscars not just as a guest but nominated as the best writer, for 'The Truman Show'. His name – Andrew Niccol.
Which brings me to this lovely ad. A 'Truman Show' in 60 seconds, we see our hero the everyman city worker locked in a dull world where machines do most for us, a numbed-down world devoid of any real feeling, beautifully animated and paced, with the feel of an epic about it. It should be seen at the cinema. Our man steals over to the wrong side of the tracks and finds the car which he proceeds to drive in a law-breaking manner, triggering the authorities to chase him down, and that big music track for addicts everywhere, Piaf singing 'Je ne regret rein'. Because it's a make-believe place, the driver can show us some awesome wheel-spinning slides and drifts before breaking out of the carapace of this dull world into our real world. We then see the car for real, and fine it looks too.

Petrol heads will know the GT 86 lives up to this hype. Which is why the ad should be praised even more. It could have started with the car, and myriad car-nut details such as low hip points or rear-wheel drive configurations. But it didn't, it starts with the man. It taps a real human emotion (life can be dull in this vanilla world) and only then comes to the car as the answer. And the car delivers thrills and emotion aplenty. I'm sure the engineers prodded marketing to talk car language in the ads but all that stuff can be found on the site. So it works. In my book, it's always better when the ads are about me as much as about the product.

The Toyota brand has been missing for a while. Don't they do Pick-ups? And massive four-wheelers? The endline, 'Always a better way', is an unhelpful woeful monument to wishful thinking and car-testosterone which reminds me of a feminine personal care brand. Now at last they have registered in a few million of my brain cells and a new story is emerging.
Brand strategy verdict: 9 out of 10
The best way to lift the Toyota brand is with a single brilliant car, as with VW and the Golf Gti. Let the other cars in the range feed off the GT86 and the cool ad.
Adwatch (Sept 19) Top 20 recall: Toyota
Latest rank
Sep-12
Brand
Agency/TV Buyer
Recall %
1
(–)
Gocompare.com
Dare/Carat
56
2
(–)
Enterprise
Dare/PHD
52
3
(–)
Aldi
McCann Erickson
Manchester/Universal
McCann Manchester
51
4
-9
Sainsbury's
Abbott Mead Vickers
BBDO/PHD
48
5
(–)
Churchill Pet
Insurance
WCRS/MediaCom
43
6
(–)
LoveFilm
The Creative
Partnership/
M2M Media
41
7
(–)
McDonald's
Leo Burnett/OMD UK
37
8
(–)
Sheba
Abbott Mead
Vickers BBDO/
ZenithOptimedia
35
9=
(–)
VO5
Euro RSCG London/
Mindshare
31
9=
(–)
Tesco
The Red Brick Road/
Initiative
31
11=
(–)
Colgate Total
Y&R Paris/MEC
29
11=
-13
BT
Abbott Mead Vickers
BBDO/Maxus
29
13
(–)
The Co-operative
TBWA Manchester/
PHD Rocket
28
14=
(–)
Wickes
MWO/Carat
27
14=
-20
Sky
Brothers & Sisters/
MediaCom
27
16=
(10=)
Currys/
PC World
M&C Saatchi/
Walker Media
25
16=
(–)
WeBuyAny
Car.com
Driven/All
Response Media
25
16=
(–)
Yoplait Perle
de Lait
Publicis Conseil/
Universal McCann
25
16=
(–)
Tetley Tea
Dare/MediaVest
25
20
(–)
Toyota
Saatchi & Saatchi/
ZenithOptimedia
24
This article was first published on marketingmagazine.co.uk
blog comments powered by

Disqus
---
Additional Information
Twitter gives brands lead generation with new cards

Twitter has announced an addition to its Twitter Cards today to allow marketers to generate leads and drive purchases and all within the space of a tweet.

It is a significant move that brings the ability for Twitter users to easily leave their contact details within expanded tweets, called the Lead Generation Card, to express interest in what a brand is offering.