---
Campaign Viral Chart: 2012 hangs on a while longer
By Sarah Johnson, campaignlive.co.uk, Friday, 04 January 2013 09:00AM
Google and YouTube's reviews of 2012 dominate this week's viral chart, with Fiat taking third place with its rap about motherhood.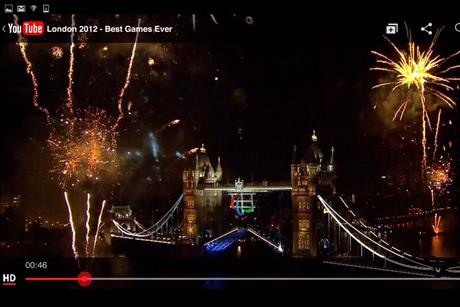 The past week's most recommended video with 195,848 shares is Google's 'Zeitgeist 2012: Year in Review', which recaps major global events such as the Olympics, the Arab Spring and Felix Baumgartner's jump from space.

In a similar but more light-hearted vein, Google's video-sharing site YouTube looks back at what was popular in 2012 by creating a new video for smash song 'Gangnam Style'.

In third place, Fiat takes off the rap music video format with 'The Motherhood featuring Fiat 500L'. Produced by Rubber Republic, the car gets substantial screen time as a woman sums up life with children with lines such as "I'm expressive, I express all the time because the doc said to not breastfeed is a crime".
To view the most-shared viral ads from previous weeks visit the Brand Republic viral video board on Pinterest.
The chart, produced in conjunction with Unruly, ranks ads according to the number of times they have been shared on Facebook, Twitter and the blogosphere.
Ads launched more than 30 days ago are not included.
1. Google 'Zeitgeist 2012: Year In Review' by Whirled
195,848 shares this week
All time: 604,719 shares
2. YouTube "Rewind YouTube Style 2012" by Seedwell
73,257 shares this week
All time: 1,230,304 shares
3. Fiat 'The Motherhood feat. Fiat 500L' created by Rubber Republic
37,240 shares this week
All time: 164,750 shares
4. Samsung/ Disney 'Wreck-it Ralph Challenge' created by Feref/Starcom
26,734 shares this week
All time: 80,462 shares
5. SPCA 'Meet Porter. The World's First Driving Dog.' by DraftFCB
15,092 shares this week
All time: 573,855 shares
6. Campofrio 'El Curriculum de Todos' by McCann Erickson
7,750 shares this week
All time: 222,192 shares
7. Victoria's Secret 'Deck the Halls' created by Madoff Productions
6,824 shares this week
All time: 206,063 shares
8. Samsung 'Samsung Galaxy Note II - Office Upgrade' by 72 And Sunny
4,830 shares this week
All time: 8,984 shares
9. Kia 'Optima Blake Time Travels' by David&Goliath, El Segundo, USA
3,609 shares this week
All time: 28,951 shares
10. Ford Europe 'SNOWKHANA ONE' by Content Factory
3,249 shares this week
All time: 20,357 shares
Follow @brproducers
This article was first published on campaignlive.co.uk
blog comments powered by

Disqus
---
Additional Information
Twitter gives brands adds lead generation to

Twitter has announced an addition to its Twitter Cards today to allow marketers to generate leads and drive purchases and all within the space of a tweet.

It is a significant move that brings the ability for Twitter users to easily leave their contact details within expanded tweets, called the Lead Generation Card, to express interest in what a brand is offering.