---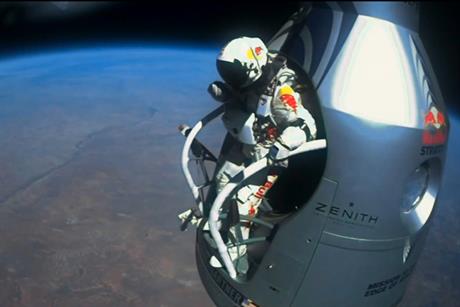 1. Red Bull, 'supersonic freefall from 128k – mission highlights'
Red Bull took the unconventional route to online branded content this year through sponsoring Felix Baumgartner to perform a skydive in space. The record-breaking adventure was shared 425,147 times in its first week and broke YouTube history by racking up eight million concurrent views on the site. It has since been seen on Red Bull's YouTube channel more than 29 million times. The stunt, Red Bull's biggest piece of activity, was Tweeted more than three million times.
Agency: In-house
2. Nike+, 'FuelBand'
Nike launched an innovative global integrated campaign allowing users to track the "fuel" they use during the day via their wristband. The Nike+ platform tracked performance, measured calories, steps and timing. The website allowed users to see their own and friends' data and allowed the experience to be shared online. The campaign won the Cyber Lion and Titanium Grand Prix at Cannes this year and picked up a gold in the Integrated category. It also picked up a gold at the Campaign Big Awards. It all added up to much more than an online ad – more a utility delivering a way of life.
Agency: R/GA New York; creatives: Noel Billig, Tara Greer, Wade Convay
3. Bodyform, 'the truth'
Bodyform launched a clever, comical video featuring a fictional chief executive, Caroline Williams, responding to a Facebook post by Richard Neill accusing the brand's advertising of creating a myth about periods. The film responded directly to Richard and accused him of "exposing every man to a reality we hoped they'd never have to face". The spoof proved an instant hit: it has been viewed on YouTube more than 3.3 million times.
Agencies: Carat, Rubber Rebublic; creatives: Matt Golding, Rory Ahern, Tiffany Maddox, Tom Wainwright
4. Sainsbury's, 'stories of the heroes'
Sainsbury's commissioned a series of online films to support its sponsorship of the Paralympic Games. Ten Paralympians including Ellie Simmonds and Hannah Cockcroft, who were then relatively unknown, were introduced by someone close to them, followed by intimate snapshots of their training that show their incredible determination, skill and commitment. The online campaign contributed to the 5 per cent uplift in the public's positive perception of the brand.
Agencies: PHD, Drum; creative: Ben Kerr
5. Paddy Power, 'chav tranquilizer'
Paddy Power kicked off the year with a controversial spot, "chav tranquilizer", ahead of the Cheltenham Festival. The ad showed a stern-looking hitman stalking the racecourse grounds firing tranquilizer darts at unsuspecting members of the public. The idea came from a Facebook message posted on the bookmaker's site that said: "Hope the chavs don't ruin Cheltenham like they did Ascot." The spot, which launched online due to a ban of the ad on TV by Clearcast, racked up more than 1.4 million hits on YouTube. It went on to win a gold in the Film category at this year's Campaign Big Awards.
Agency: Crispin Porter & Bogusky; creatives: Rob Reilly, Ben Walker, Matt Gooden
6. Kaiser Chiefs, 'bespoke album creation experience'
Kaiser Chiefs turned music buying on its head when they released an album placing fans at the heart of the creative process. The band gave their fans the opportunity and tools to make the album they wanted to hear by creating their own "perfect version". Fans were able to design their own artwork and then sell their creations for a £1 commission. The online campaign landed two silver gongs at Cannes Lions 2012, two D&AD Pencils and also a gold at the Campaign Big Awards in the Interactive Media & Entertainment category.
Agency: Wieden & Kennedy; creatives: Tony Davidson, Kim Papworth
7. British Heart Foundation, 'Vinnie'
The British Heart Foundation's online initiative was a crucial extension of the TV ad and enabled the work to achieve outstanding results. More than 72,000 people shared the video, featuring Vinnie Jones doing CPR to the beat of Stayin' Alive, across social media in the first ten days and its online training video reached its five-year target in only five days. The campaign also trended on Twitter on the day of launch and has been seen nearly three million times on YouTube. The campaign has saved 28 lives so far.
Agency: Grey London; creative: Vicki Maguire
8. Ballantine's, 'Loud Blue'
Work Club created an innovative platform for Ballantine's that lets people enhance their Instagram photos by adding bespoke music. The Loud Blue platform, the next phase in the Scotch whisky brand's "leave an impression" campaign, uses an algorithm that analyses photo data and creates music that represents the image.
Agencies: Work Club, Reactify; creative: Joe Corcoran
9. Nike, 'my time is now'
Nike launched an integrated campaign that initially broke on TV. A three-minute online version was then launched featuring big names from football. In the spot, a France v Holland match was interrupted by waves of young players showing they have the skills to take on the best. The ad has been viewed more than 20 million times on YouTube, shared 841,617 times on Facebook and 60,338 on Twitter.
Agency: Wieden & Kennedy; creatives: Ben Everitt, Al Merry
10. Mercedes-Benz, 'the catch'
Mercedes-Benz launched an online drive to support its sponsorship of golf. It teamed up with the former Formula One driver David Coulthard and the golfer Jake Shepherd to set a new Guinness World Record: a golf ball travelling at 178mph was landed in a car 280 metres from where it was shot. The spot has been viewed more than 2.4 million times on YouTube, shared more than 70,000 times on Facebook and Tweeted more than 3,000 times.
Agency: Weapon7; creatives: Pete Giblin, Jeremy Garner, Alex Dunning
This article was first published on campaignlive.co.uk
blog comments powered by

Disqus
---
Additional Information
Making the best out of Twitter chats with @TheChatDiary

Many businesses try and engage user and demonstrate their expertise via running chats over Twitter. These are on a chosen topic, and curated and followed by a pre-assigned #hashtag.

Twitter chats can be a very useful way of networking and community building for those involved, however they are also easy to miss. While you can read the conversation back, this clearly limits the interactivity and value of the conversation.