---
Top 10 TV and cinema ads
campaignlive.co.uk, Thursday, 13 December 2012 08:00AM
Campaign looks at the top 10 ads of 2012.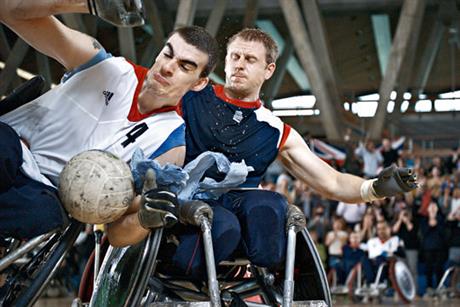 1. Channel 4, 'meet the superhumans'
Channel 4 produced a goosebump-inducing piece of film to promote its coverage of the Paralympics that adroitly upturns preconceived notions about the event, finally giving disabled athletes the billing they deserve. The film swaggers with Tom Tagholm's self-assured direction, is amplified by Public Enemy's Harder Than You Think and compels its audience to sit up and take notice.
Agency: 4Creative; creative: Tom Tagholm; director: Tom Tagholm; production company: 4Creative
2. The Guardian, 'three little pigs'
An adaption of a classic fairytale deftly illustrates The Guardian's power to engage as well as inform its readership across media. The three little pigs are driven to extreme measures as they struggle to keep up with their mortgage repayments and the ensuing drama in this multi-award-winning spot sets out the publication's stall as one of the nation's foremost providers of news and opinion.
Agency: Bartle Bogle Hegarty; creatives: Matt Fitch, Mark Lewis; director: Ringan Ledwidge; production company: Rattling Stick

3. Lurpak, 'rainbow'
Lurpak's star turn this year was a masterclass in craft. This vibrant, charming film gives healthy food a delicious makeover and forced rival brands to try to up their game. The beauty and energy in the spot is matched by the witty half-spoken, half-sung copy, and it more than delivers on the central message that healthy doesn't have to be humdrum.
Agency: Wieden & Kennedy; creative: Andy Kelly; director: Dougal Wilson; production company: Blink




4. British Heart Foundation, 'Vinnie'
This brilliant spot helped save 28 lives, has been viewed 2.5 million times on YouTube and sparked a media frenzy. The sharp writing and taut direction allowed the professional hardman Vinnie Jones to give his best performance in years.
Agency: Grey London; creative: Vicki Maguire; director: Wayne McClammy; production company: Hungry Man

5. Procter & Gamble, 'best job'
A gentle reminder that behind every great athlete is a hard-working, devoted mother, this emotionally charged and superbly directed film stood out from the Olympics pack. The spot shows the painstaking effort that mothers invest in their children every day in order to bring them to their moment of triumph as young adults.
Agency: Wieden & Kennedy Portland; creatives: Kevin Jones, Ollie Watson; director: Alejandro González Iñárritu; production company: Anonymous Content

6. Lynx, 'the chain'
Lynx nails the powerful force that the initial attraction between the sexes can unleash – in this case, causing complete chaos. This perfectly paced and beautifully shot film makes for entertaining viewing. It helped make Anarchy Lynx's most successful launch to date.
Agency: Bartle Bogle Hegarty; creatives: Daniel Schaefer, Szymon Rose; director: Tom Kuntz; production company: MJZ

7. Thinkbox, 'Harvey & Rabbit'
Another compelling love story, this time between a dog and his stuffed rabbit. This is easily one of the year's most charming spots. Filled with endearing vignettes, and set to Friends, a song by Adam Buxton, it mixes sentiment with a healthy dose of humour. It's hard not to inwardly cheer when the filthy, chewed rabbit dripping in dog saliva escapes the bin.
Agency: The Red Brick Road; creatives: Mark Slack, Gemma Phillips; directors: Si & Ad; production company: Academy

8. John Lewis, 'the journey'
It's a tale of snowman meets snowwoman. He falls in love and risks a meltdown in order to get her the perfect Christmas gift. While this spot doesn't quite top last year's much-lauded "the long wait", it is a worthy successor. The haunting soundtrack, The Power Of Love by Gabrielle Aplin, helped ensure that those after their annual emotional fix from John Lewis weren't disappointed this year.
Agency: Adam & Eve/DDB; creatives: Frank Ginger, Shay Reading; director: Dougal Wilson; production company: Blink
9. Ikea, 'Playin' With My Friends'
If ever a film embodied the sheer exuberance of being a kid and having fun, it's this one. The soundtrack works perfectly to set the pace and atmosphere, and the beautifully designed, fantastical giant-sized toys elevate this colourful spot into a visual treat.
Agency: Mother; creative: Mother; director: Dougal Wilson; production company: Blink

10. St John Ambulance, 'helpless'
Powerful, gripping, engaging, with a shocking twist. This clever spot has more packed into 90 seconds than most long-running TV drama series.
Agency: Bartle Bogle Hegarty; creatives: Dan Morris, Charlene Chandrasekaran; director: Benito Montorio; production company: Blink
This article was first published on campaignlive.co.uk
blog comments powered by

Disqus
---
Additional Information
Hey, businesses: ditch YouTube and Head over to Vine

Video marketing for businesses can be a tough game to play. The video landscape is full of funny pranks and comedy acts, so finding an area to put your real content where it will be viewed is difficult. Many businesses are attracted to YouTube, as they boast six billion hours of video viewed. So, they figure, hey why can't I get some of those hours. The problem is: YouTube's viewed content is dominated by shows and comedy.