---
ASA bans Kayak 'brain surgeon' ad
By John Reynolds, campaignlive.co.uk, Wednesday, 28 November 2012 12:35PM
A television advertisement for Kayak, the online holiday website, which features a surgeon conducting brain surgery and attracted 441 complaints, has been banned.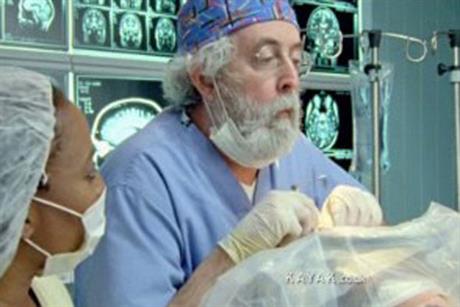 In the TV ad, created by Traffic Bureau, the surgeon says, "Let's see what we got here" and proceeds to operate on his patient's brain.
The patient has a computer on his lap and as the surgeon pokes around his brain, lifts his hands to types.
The nurse says, "This completely unethical" to which the surgeon quips, "My hours are unethical. I don't have time to sit around searching tones of travel sites looking for flights and hotels." Later in the ad, the surgeon moves the patient's arm and high-fives him.
In all, the ASA received 441 complaints, including that it was distressing to children and insulting to surgeons and the medical profession.
In its defence, Kayak said it used humour in its ads for a number of reasons but acknowledged it could offend at times. It claimed the ad was so obviously a parody that it was not offensive and that it had received only positive responses.
Kayak said that although the ad was aired during times when children might be watching TV, it did not target children nor did it believe that the ad ran during any children's programming.
Clearcast, the TV vetting body, endorsed Kayak's comments, supporting its argument that it was an "obvious parody".
In its ruling, the ASA cleared the ad but it took issue with Kayak that the ad could cause distress to some viewers.
It said that it considered the ad's flippant treatment a serious and recognisably real situation was likely to cause distress and serious offence to those viewers who had been affected by the type of operation depicted in the ad. We considered the ad was likely to cause distress without justifiable reason and serious offence to some viewers and therefore concluded it breached the code.
This article was first published on campaignlive.co.uk
blog comments powered by

Disqus
---
Additional Information
Forget the digital cluster bomb – be more like Bob

It's said that the average person is exposed to 30,000 marketing messages a day. To me that's worrying news for us marketers – especially if it's your job is to build marketing relationships with consumers.