---
Promotional Feature
Private Hear: November 2012
campaignlive.co.uk, Thursday, 01 November 2012 07:00AM
Featuring work from Heinz, Army, Grampian Fire and Rescue Service, Gumtree.com, Volkswagen and Network Rail.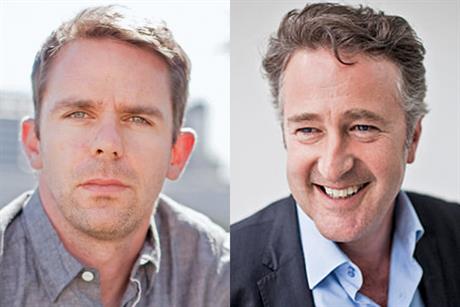 Geoff Gower managing partner, creative, Archibald Ingall Stretton

Nick Fox partner, Atomic London

I like to think that I'm extremely cool. That's why I listen to Magic FM. Obviously, whenever someone gets into the car, or comes round to my place to visit, I immediately switch to some esoteric Danish jazz funk, but that in no way lessens my total comfort and familiarity with uplifting ballads from the 80s.

Those of you less secure in your own skin should know that, between classics such as Man! I Feel Like A Woman and The Power Of Love, there are some radio ads to help keep the pop pumping. And I'm pretty picky when it comes to the ads that I'm happy to have disrupting the magic.

The Army's latest effort to persuade people to sign up features Recruit Quinn – a real-life recruit followed in a regular series of "live" radio ad updates as he goes through six weeks of basic infantry training. To be honest, he sounds like a mentalist. I'm not sure it's all that healthy to promote a career choice on the basis that it's all about kicking things in and lobbing grenades. But then I'm too cool to join the Army, anyway, as you can't wear brightly coloured chinos and the haircuts are all a bit too 90s.

Gumtree.com has always had too much of a whiff of "Australians sleeping on each other's floors" about it to be cool, and this radio ad does nothing to change that. Confusing, shouty and unlinked one-liners are fired in a seemingly random order – with no charm, no story and no reason to give a damn. It's called "hard work". It is. On every level.

Bikes are cool. Dying on one isn't. A clear and succinct message to get across, you'd suppose. But Grampian Fire and Rescue Service's "the knock" ad has, instead, gone for a rather elaborate plot device involving the knock on the door that your loved ones would receive if you die mid-wheelie. It makes everything rather too complicated and the ad is a right mess – almost as much of one as if you really did come off your bike mid-wheelie.

Network Rail says: "See track. Think train." Well, duh. Is it really still necessary to spend money telling people that trains go on tracks and walking across them when a train's coming is a bad idea? Surely, the money being spent on this radio ad, "what's that, Mum?", could be better used trying to keep less stupid people alive? Pity it didn't spend a bit more on making the sound effects of the onrushing train sound natural rather than just crudely dropped in.

Soup generally isn't all that cool, but this soup ad is. Evocative writing and good casting certainly has the desired effect and, by the end of listening to this spot, "winter", I found I quite fancied a bowl of tomato soup. Would that be Heinz? Apparently, it has to be.

Finally, which well-known person has the most recognisable voice? The Queen? Simon Cowell? Nope. It's Stephen Hawking, who's now even cooler since his appearance at the Paralympic Games opening ceremony this summer. Sure, using him in a radio ad is almost cheating but, like most examples of cheating, it works very well.

This "mysteries of the universe" radio spot is a good idea, with a script that serves his arresting voice and is yet another example of Volkswagen doing a price message in an interesting way. Which is always cool.

Just completed a massive quant survey over here at Atomic London's offices in Clerkenwell on radio in general and radio ads, across an eclectic range of stations including Absolute, Xfm, BBC Radio 6 Music, Radio Jackie, Radio 4 and Mellow Magic on Magic (warning: so mellow, you want to slit your throat when listening to it alone). And it's tough out there. People recall really annoying ads and rarely remember the good ones. Too much noise, too many effects, too much repetition, too aggressive – all, basically, getting in the way of the music. Hmm. Maybe it's the really annoying ads that work.

So, with that in mind, let's have a look at this current crop.

First up is the Army recruitment ad, where we listen to Recruit Quinn, I think from the Wiltshire-Hampshire borders, getting his natural high from "throwing grenades" and "clearing rooms". This is a series of ads that will appear over five to six weeks tracking his progress. I like this direct approach, I like the direct action to Facebook, I worry about the delivery being so monotone and I hope that it livens up a little as we go along. 7/10

Next up is Volkswagen, which has taken a Stephen Hawking soundalike who tells us that, although he has cracked the code of the universe, there are still some mysteries left to solve: you can apparently get a VW Up! for £7,995. Genuinely funny, very engaging, clear message and a great punchline: "It does my head in." 9/10

OK, next up it's Gumtree.com. Everything and a kitchen sink can be found in here, chaps: a job, a hard worker, a motor, a cot and a one-bedroom flat. All this and more delivered in a friendly, Cockneyish accent. Oh dear. 2/10

On a more positive note, with the Grampian Fire and Rescue Service ad, you're encouraged to imagine you have died in a motorcycle accident and your loved one gets "the knock". This is truly confusing – it took me a few listens to figure out just who they were talking to and precisely what behaviour change they really want to achieve. As a biker myself, I believe there must surely be a more direct way to encourage us to take less risk. Not great. 4/10

More life-threatening behaviour next, I'm afraid, with Network Rail's ad promoting safety at level crossings. It feels like we're set in The Archers here, with a mum telling her daughter to hurry up while answering a barrage of increasingly annoying questions. Q: What's this, Mum? A: A pillar box. This finally leads to the ultimate question. Q: What's this, Mum? At which point you hear the sound of an InterCity 125 swooshing by and so bringing the conversation to a rather abrupt halt. This is a serious subject and I can't help but feel that it could be handled in a much more impactful way. Could try harder. 5/10

And, finally, Heinz – offering up a winter warmer with David Tennant eulogising about the coming season's crisp, clear somethings, yielding bread and the glorious virtues of a red Heinz tomato blanket… sorry, I mean soup. I guess it works in that it reminds you to stock the larder with the usual winter staples. But I have been so turned off by that other Scottish accent from The Co-operative – the "Good with food" one – that I find I'm now left with a rather bitter taste in my mouth. Not Heinz's fault, I guess. So, not bad, not brilliant. 6/10
Heinz 'winter' by AMV BBDO


Client: Jack Wallace, soups marketing manager, HJ Heinz
Brief: Evoke the appeal of winter and how it is augmented by Heinz Tomato Soup
Agency: Abbott MeadVickers BBDO
Creative: Paul Burke
Producer: Robbie Kilgour
Sound studio: The Lab Studios
Engineer: Will Cohen
Campaign exposure: UK radio
Army 'recruit Quinn' by JWT London
Client: Katie Dulake, marketing director, Army
Brief: A recruitment campaign that follows a real recruit through six weeks of basic infantry training
Agency: JWT London
Creative team: Adam Griffin,
Rob Spicer, Hugh Todd, Adam Scholes
Producers: Carley Reynolds, Rory O'Connell
Sound studio: GCRS
Engineer: Munzie Thind
Campaign exposure: Alternate days on UK radio for six weeks
Grampian Fire and Rescue Service 'the knock' by Bauer Med
Client: Ally Birkett, group manager, Grampian Fire and Rescue Service
Brief: Reduce accidents involving motorcyclists
Agency: Bauer Media
Creative: Ryan Ogilvie
Producer: Martin Morrison
Sound studio: Northsound
Engineer: Martin Morrison
Campaign exposure: Local
Gumtree.com 'hard work' by Beta
Clients: Hamish Stone, marketing director; Sam Diamond, marketing manager, Gumtree.com
Brief: Position Gumtree as the answer to life's many needs
Agency: Beta
Creative team: Robert Campbell, John Comber, Dylan Hewitt
Producer: Oliver Mather
Sound studio: Felt Music
Engineer: Neil Harrington
Campaign exposure: London
Volkswagen 'mysteries of the universe' by Adam & Eve/DDB
Clients: Kate Jenkins, communications manager; Kirsten Stagg, national communications manager, Volkswagen
Brief: Promote Volkswagen value
Agency: Adam & Eve/DDB
Creative team: Jeremy Craigen, Jonathan John, David Mackersey
Producer: Charles Woodall
Sound studio: Clearcut Sound
Engineer: Mark Hellaby
Campaign exposure: Radio
Network Rail 'what's that mum?' by M&C Saatchi
Client: Rob Kirk, marketing manager, Network Rail
Brief: Promote safe use of level crossings
Agency: M&C Saatchi
Creative team: Dan McCormack, Luke Boggins
Producer: Simon Blaxland
Sound studio: Wave Studios
Engineer: Tom Heddy
Campaign exposure: National drive-time slots and Newslink
Click here to view the Private Hear archive
Add to Private Hear showcase
This article was first published on campaignlive.co.uk
blog comments powered by

Disqus
---
Additional Information
Making email mobile friendly

Despite predictions of the demise of email, figures from the Radicati Group show that there were around 2.1 billion emails users in 2012, with the number set to grow beyond 2.8 billion in the next four years.