---
L'Oreal gets Dior mascara ad banned by watchdog
By Loulla-Mae Eleftheriou-Smith, campaignlive.co.uk, Wednesday, 24 October 2012 12:01AM
Christian Dior has had a press ad featuring brand ambassador Natalie Portman banned by the ad watchdog, following a complaint from rival L'Oreal that the image misleadingly exaggerated the effects of Dior's mascara.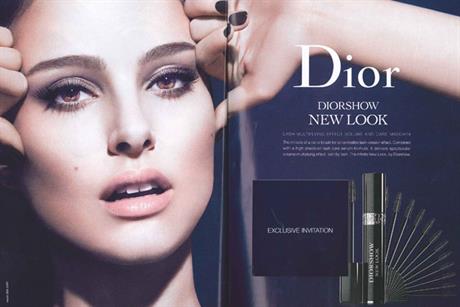 The ad shows a close-up of Portman's face and the headline: "Dior show new look".
The ad was accompanied by the line: "Last-multiplying effect volume and care mascara. The miracle of nano brush for an unrivalled lash creator effect. It delivers spectacular volume-multiplying effect, lash by lash."
Dior made it clear to the Advertising Standards Authority (ASA) that it had not received any complaints from consumers, which it said demonstrated the ad "did not go beyond the likely consumer expectations".
Dior admitted that the ad, which had originally been created to advertise a lipstick, had been digitally enhanced in the post-production process to "tidy up" Portman's eyelashes, replacing damaged lashes as well stylistically separating and extending them.
The brand did, however, provide consumer research that supported the ad's claims about the mascara, and stressed that Portman was not wearing false lashes, nor were false lashes added in the post-production process.
The ASA banned the ad because there was not "sufficient evidence" to show that the post-production retouching on Portman's lashes did not exaggerate the likely effects of the product.
In February a L'Oreal anti-wrinkle cream ad featuring actress Rachel Weisz was banned following a complaint from Jo Swinson MP that it "misrepresented the results that the product could achieve".
Follow @loullamae_es
This article was first published on campaignlive.co.uk
blog comments powered by

Disqus
---
Additional Information
Pinterest takes big step towards working with major brands

Pinterest is getting closer to big brands as it announces three new types of pin that will highlight major US retailers.

It marks Pinterest's first step towards associating images directly with brands and could be the beginning of a change on the social network that sees it become a marketplace as well as a site where people pin ideas of things they like or that inspire them.