---
Nestlé sends KitKat into space for Felix Baumgartner
By Matthew Chapman, campaignlive.co.uk, Monday, 15 October 2012 12:17PM
Nestlé sent a KitKat into space this weekend in order to show support for Felix Baumgartner ahead of his skydive from the edge of space.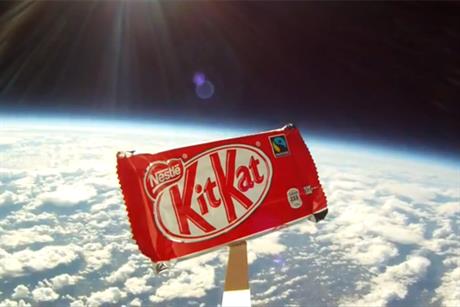 The Break from Gravity project saw the four-fingered chocolate bar sent to a height of 22 miles after beginning its ascent from Cambridgeshire at 11.20am on Saturday (13 October).
JWT London conceived the campaign as a way of keeping Baumgartner's "spirits high" ahead of yesterday's skydive, which saw him jump from a balloon 24 miles above New Mexico and break the sound barrier in the process.
Baumgartner had been preparing for the record-breaking skydive, which was sponsored by Red Bull, for five years and in the lead-up to yesterday's jump the mission had to be delayed several times to await the perfect conditions.
The activity by KitKat is designed to fit in with the brand's "have a break" strategy and saw camera footage shared via the brand's social media channels.
Footage was posted on the KitKat Facebook page and on Twitter, where users were encouraged to use the hashtag #breakfromgravity.
Creative directors for the campaign were Barry Christie and Jason Berry.
Follow @mattchapmanuk
This article was first published on campaignlive.co.uk
blog comments powered by

Disqus
---
Additional Information
Highest rated
Agency: VCCP

Rating: 5.0

Rating: 5.0
Hey, businesses: ditch YouTube and Head over to Vine

Video marketing for businesses can be a tough game to play. The video landscape is full of funny pranks and comedy acts, so finding an area to put your real content where it will be viewed is difficult. Many businesses are attracted to YouTube, as they boast six billion hours of video viewed. So, they figure, hey why can't I get some of those hours. The problem is: YouTube's viewed content is dominated by shows and comedy.