---
Vodafone blasts Ofcom's 'careless disregard' for granting Everything Everywhere 4G spectrum
By Matthew Chapman, marketingmagazine.co.uk, Tuesday, 21 August 2012 09:08AM
Vodafone has blasted Ofcom's "careless disregard" after the regulator granted Everything Everywhere permission to use the existing spectrum for a 4G network.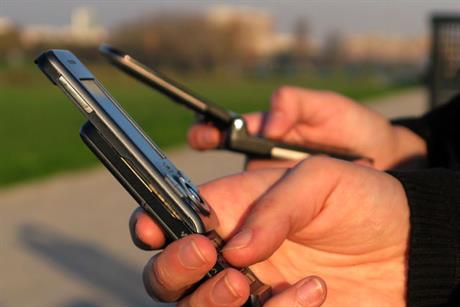 The reaction from Vodafone comes as Everything Everywhere, the owner of the T-Mobile and Orange brands, is set to steal a march on its rivals after being granted the green-light to launch super-fast mobile internet.
Ofcom has refused to "properly regard the competitive distortion created by allowing one operator to run services before the ground has been laid for a fully competitive 4G market", according to Vodafone.
However, Ofcom has defended itself by claiming there was no risk the benefits of the decision will be outweighed by a distortion of competition and claims delaying the decision would be to the detriment of consumers.
The decision follows a lobbying campaign Everything Everywhere that launched in April and urged the government to "do whatever is necessary to move forward" with the 4G roll out.
Everything Everywhere approached Ofcom in March of this year with a proposal to become the first mobile operator to bring 4G to the UK by using its existing 1800Mhz spectrum to run LTE.
Ofcom's decision means Orange and T-Mobile will be the first operators that can offer consumers the significantly faster mobile data speeds enabled through 4G with a possible roll out as early as 11 September.
Everything Everywhere has already trademarked 'Everything Everywhere 4G' and has been running trials of the service in South-West England.
The Ofcom decision comes ahead of the release of additional spectrum in the 800 MHz and 2.6GHz bands that will enable other operators to launch competing 4G services from next year following an auction process later this year.
Ofcom's actions have enraged Vodafone, which has released a statement saying it is "frankly shocked that Ofcom has reached this decision".
The statement continued: "The regulator has shown a careless disregard for the best interests of consumers, businesses and the wider economy through its refusal to properly regard the competitive distortion created by allowing one operator to run services before the ground has been laid for a fully competitive 4G market.
"Ofcom's timing is particularly bizarre given the reports that Everything Everywhere is currently in discussions to sell some of its spectrum to 3, which Ofcom has previously been at such pains to protect with its over-engineering of the 4G auction.
"This means the balance in the auction will fundamentally change.
"The regulator has spent several years refusing to carry out a fair and open auction. Now its decision today has granted the two most vociferous complainants during that entire process a massive incentive to further delay it.
"We wholeheartedly support the Secretary of State's call for the 4G auction to occur in December and look to the regulator to finally do its job and produce a competitive market for 4G services as soon as possible.
"We firmly believe that a fully competitive market for 4G services is in the best interests of Britain.
"We have already committed ourselves to reach 98% of the UK population with indoor 4G services by 2015 – two years before Ofcom's own target – but we need to acquire spectrum in the auction to achieve this. Ironically, all that stands in our way right now is the regulator."
Follow @mattchapmanuk
This article was first published on marketingmagazine.co.uk
blog comments powered by

Disqus
---
Additional Information
Twitter gives brands lead generation with new cards

Twitter has announced an addition to its Twitter Cards today to allow marketers to generate leads and drive purchases and all within the space of a tweet.

It is a significant move that brings the ability for Twitter users to easily leave their contact details within expanded tweets, called the Lead Generation Card, to express interest in what a brand is offering.