---
News Corp directors approve plans to break up company
By Michael Northcott, managementtoday.co.uk, Thursday, 28 June 2012 11:17AM
Plans to split Rupert Murdoch's media empire in two have been approved by directors at News Corporation.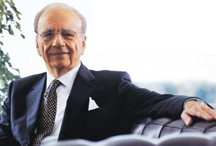 The phone-hacking scandal and its aftermath have obviously set minds a-pondering at the top table of News Corporation, as today it emerged that company directors have approved the split of the publishing and entertainment arms into separate entities. In its current form, the business is worth around $50bn, but after a process that will take around a year, two separately traded businesses will emerge.
Shares in News Corp have been climbing steadily as the rumours of the break up have circulated, including an 8.3% rise on Tuesday when the company released a statement admitting that it was considering the break up. This morning they were up a further 2.5% even before the news of the board approval emerged, putting them at their highest price since the company bough Dow Jones back in 2007. Exciting stuff for anyone ballsy enough to sell: 10% growth in a week is a mammoth return…
But why break the company up when it is financially in great shape? Well, it's all about the bad press. The publishing arm of the business, which includes the Wall Street Journal, The Times and the Sun, has been heavily scrutinised over the last 18 months thanks to the phone-hacking scandal, which resulted in the closure of the News of the World. Murdoch is facing pressure from shareholders after News Corp's bid to buy the share it didn't already own in British Sky Broadcasting fell through – and many put this failure down to the reputational damage done by the firm's British newspaper scandal.
It's going to be a complex operation splitting the business however. Deciding how to apportion future fines and legal bills over phone hacking between the two sides of the company will be tricky. The publishing arm, for example, contributes 25% of revenue to the business ($8.8bn), but only 10% of profit. If the companies do go ahead to be separately listed, it will be interesting to see which one shareholders flock to. But there is definitely a sense that Murdoch is 'ring-fencing' the publishing arm to protect the entertainment side from legal repercussions from phone hacking.
Finally – and no surprises here – Murdoch is expected to be chairman of both companies, meaning the Murdoch family will not have lost their vice grip on this global media monolith. So a new chapter, but no real change to the Murdoch family vault. And Rupe will want to have another crack at the bit of BSkyB he doesn't already own before he hangs up his hat…
This article was first published on managementtoday.co.uk
blog comments powered by

Disqus
---
Additional Information
All aboard Marissa Mayer's Yahoo acquisition train

Marissa Mayer certainly knew what was coming when Yahoo announced its $1.1bn (£723m / 857m euros) purchase of blogging platform Tumblr earlier this week. Rather than waiting for the critics to pounce, she issued a rather succinct, clear and highly quotable message proactively: "we promise not to screw it up".