---
Campaign Viral Chart: Irn-Bru debuts as PBS' autotune kids song tops chart
By Ben Hall, campaignlive.co.uk, Friday, 15 June 2012 09:25AM
Scottish soft drink Irn-Bru debuts in second place in this week's chart, which is topped by a trippy donations appeal from US public service broadcaster PBS that remixes clips from an old American children's TV show.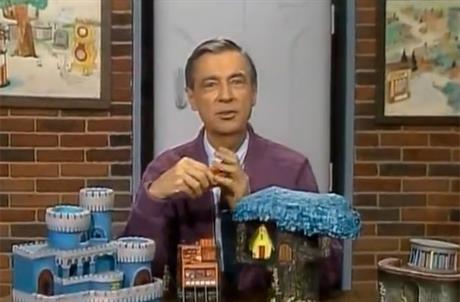 In the Leith Agency's ad for Irn-Bru, a new father turns to the drink to 'get him through' when his wife and mother-in-law discuss naming their baby Fanny.
It was shared 63,790 times in the last week, but this was dwarfed by 737,430 shares for PBS' 'Mr Rogers remixed'.
Clips from 'Mr Roger's Neighborhood', which ran from 1968 and ended in 2001, were edited together and the audio put through 'autotune' software to create the ad's soundtrack - 'Garden of Your Mind'.
The star of the viral, Fred 'Mr' Rogers, died in February 2003, aged 74, after a career that started in 1954.
The ad is designed to encourage support and donations for local PBS stations and has been mentioned in over 1,400 blog posts since its launch last week.
Elsewhere in the chart, a gameplay trailer for footballing game FIFA, shown at last week's E3 gaming expo, joined ads and demos from the event in last week's chart, with over 18,000 shares.
After its Worldwide Developer's Coference (WWDC) this week in San Francisco, Apple have entered the chart in tenth position, introducing their new Macbook Pro with retina display.
The ad has been shared 18,176 times this week and, despite setting social networks alight under the spotlight of the world's tech media, was used in only 75 blog posts.
The chart, produced in conjunction with Unruly, ranks ads according to the number of times they have been shared on Facebook, Twitter and the blogosphere.
Ads launched more than 30 days ago are not included.
Due to technical issues with Twitter's API, shares from the social network were not included in the count.
1. PBS Studio 'Mr Rogers remixed' by PBS Digital Studio
737,430 shares this week
All time: 753,501 shares
2. Irn-Bru 'baby' by Leith Agency
63,790 shares this week
All time: 80,055 shares
3. Ubisoft 'Watch Dogs' created in-house
54,429 shares this week
All time: 229,824 shares
4. Pine-Sol 'pranked' by Conscious Minds
43,229 shares this week
All time: 97,442 shares
5. Pepsi Max 'uncle Drew' by Davie Brown Entertainment
31,185 shares this week
All time: 170,220 shares
6. Nike 'my time is now' by Wieden & Kennedy, London
30,757 shares this week
All time: 777,618 shares
7. Ubisoft 'Assassin's Creed III' created in-house
25,438 shares this week
All time: 66,594 shares
8. Samsung 'Galaxy S III' created in-house
20,887 shares this week
All time: 131,650 shares
9. EA Sports 'Fifa 13' created in-house
18,333 shares this week
All time: 126,776 shares
10. Apple 'introducing Macbook Pro with retina display'
18,176 shares this week
All time: 22,116 shares
This article was first published on campaignlive.co.uk
blog comments powered by

Disqus
---
Additional Information
Highest rated
Agency: VCCP

Rating: 5.0

Rating: 5.0
The console is dead: The Socialisation of Gaming

The games console as we know it is dead. When Microsoft unveiled the Xbox One earlier this week, it was clear that this was more than a device that would enable you to play Call of Duty or FIFA – this was, in Microsoft's own words, "an all-in-one home entertainment system".