---
BBC prepares Olympic Torch ad campaign with Elbow soundtrack
By Loulla-Mae Eleftheriou-Smith, campaignlive.co.uk, Monday, 30 April 2012 01:28PM
Rainey Kelly Campbell Roalfe/Y&R has created the BBC's Olympics campaign for the torch relay, using Elbow's 'First Steps' in the creative, to showcase the national broadcaster's coverage of the event.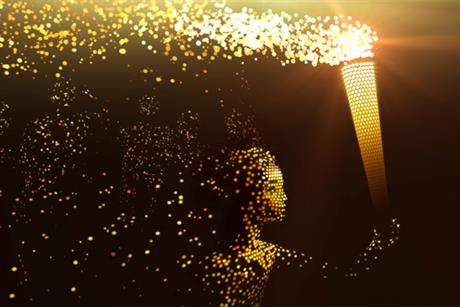 The campaign breaks tomorrow (1 May) and uses a graphic motif image of the Olympic Torch, featuring 8,000 holes within the design that each represents an individual torchbearer.
The TV ad pans back to show the individual dots joining together to create the image of the torch, which then transform into different images of landscapes, athletes and celebrations for the torch relay.
The 60-second ad will run across BBC One and BBC Three. Parts of the ad will be used within title sequences for the 'BBC Torch' specials, 'The One Show' special and 'Blue Peter'.
The ad will be the first in a series for the BBC to showcase its coverage of the Olympic Games, and the Elbow track, 'First Steps', will be used throughout Rainey's upcoming work for the broadcaster.
Executive creative director Damon Collins worked on the ad, with creatives Jules Chalkley and Nick Simons, producer Sarah Caddy, and production companies Red Bee Media and Studio AKA.
Earlier this month, RKCR/Y&R merged its digital shop, Saint, into the main agency, while at the same time, recruiting Jon Sharpe, the former chief digital officer at M&C Saatchi Group, as its chief innovation officer.
Executive creative director Damon Collins and chief executive Richard Exon left the agency in September last year to launch their own start-up. However, Collins oversaw the account and the creation of the current campaign in his time in the agency.
Follow Loulla-Mae Eleftheriou-Smith on Twitter @LoullaMae_ES
This article was first published on campaignlive.co.uk
blog comments powered by

Disqus
---
Additional Information
Highest rated
Agency: VCCP

Rating: 5.0

Rating: 5.0
Hey, businesses: ditch YouTube and Head over to Vine

Video marketing for businesses can be a tough game to play. The video landscape is full of funny pranks and comedy acts, so finding an area to put your real content where it will be viewed is difficult. Many businesses are attracted to YouTube, as they boast six billion hours of video viewed. So, they figure, hey why can't I get some of those hours. The problem is: YouTube's viewed content is dominated by shows and comedy.