---
The Year Ahead for ... Outdoor
By James Copley, campaignlive.co.uk, Thursday, 12 January 2012 08:00AM
James Copley sees a bright future for out-of-home media amid heavy investment and the changes coming into effect thanks to the Olympics.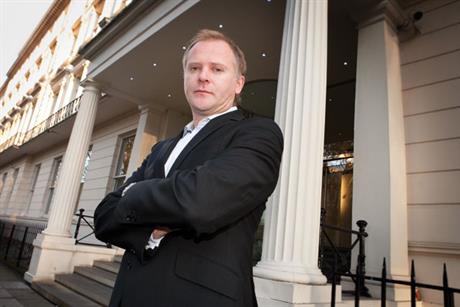 All the signs are that 2012 will be a definitive year for out-of-home media in the UK. A year that may come to set the agenda for the coming decade and beyond.
It is difficult to avoid mentioning the state of the economy in any article considering the prospects for the next 12 months, but even in the uncertain economic context we find ourselves, the OOH media sector has every reason to be optimistic about 2012.
In the summer of 2011, Kinetic set out a series of predictions about what the future holds.
In our future of OOH report, On The Threshold Of Change, we identified trends that would reshape the medium, emphasise its strengths and integrate it firmly into brand strategies where digital engagement is vital.
These can be summarised as the growth of national networks of connected digital screens; increasing experimentation and deployment of interactive technology in urban landscapes; the ubiquity of smartphones and growing use of tablets; the continued growth in the amount of time consumers spend outside the home; the convergence of all media through digitisation; and, for the creative community, the opportunity to combine new technologies with the visual impact posters have always delivered.
The second half of 2011 saw fresh investments in digital screen networks from both established media owners and newer entrants. Many are in high-value retail locations, but there are also a growing number of iconic roadside locations. Some of these are bespoke landmarks, but media owners are also looking to convert existing inventory to screens. These developments herald the arrival of the first truly national screen networks.
Media owners have already invested heavily in the medium and that remains the case. The £200 million invested in digital infrastructure in uncertain economic times should be applauded.
Interactivity is also becoming a more established part of the OOH opportunity. High-profile experimental campaigns, such as last year's augmented reality Lynx "angels" installation, are leading to larger-scale use of interactive creative. Ford, IBM, Colgate, Foster's and Heineken are also among a growing number of major brands that are taking digital OOH media into the mainstream.
This visionary approach is setting the tone for the industry and there is no doubt that consumers want to interact with brands outside of the home. Our research last year found that around 70 per cent of consumers think digital screens could offer benefit to people and half would like to download promotions from screens to their mobiles. These figures are truly remarkable and are a clear indication of what the future holds.
The strides made by linking campaigns with social media and location-based communications mean OOH has become a relevant and connected communications medium in the context of the rapid growth of digital technology and its impact on people's lives.
Another connection between posters or screens to mobiles and the internet is the power of OOH to stimulate online search for brand information. This connection will become far more powerful as sites become capable of integrating more fully with social media, mobile and online display, retail sales promotions, experiential and branded content, while continuing to deliver the huge brand awareness they have always done.
In 2012, I believe brands and agencies will begin to integrate these opportunities into their strategic thinking with increasing frequency, laying the foundations for the way things could be done in the future.
This year will, of course, be dominated by the Olympics. Sponsors that have already invested heavily in OOH campaigns associated with the Games have exclusivity within agreed locations. But with the population of the capital swelling by more than five million during the two weeks of the main competition, the whole of London will become a visual backdrop to the Olympics and a host of innovative and visually stunning campaigns will emerge during the summer.
The impact of the Games will not be limited to London. With hundreds of associated Cultural Olympiad events planned to take place leading up to and during the Games in other towns and cities, we can expect to see a huge upswing in mobility and excitement in urban areas across the country.
Preparation for the Olympics is also acting as a catalyst for change in the way brands think about the medium. Fresh investment in new sites and the increased use of technology to interact ensure the opportunities this year will be a chance for the creative industry to properly showcase the creative scope of the medium.
At Kinetic, we launched our Fuel creative sub-brand in 2011 to amplify the opportunities around the use of interactivity, technologies and special-builds. We find that both creatives and clients increasingly want to find out more about what is possible; about the potential of combining reach achieved through multiple use of formats or site domination with interactive technologies such as augmented reality and real-time distribution of news and images. Content can be a great ally to the medium and we'll see more location-specific and relevant content in operation this year, particularly aligned to the Games but also embracing environments and consumers in context.
This process of investigation and collaboration will have a lasting effect. Creatives will become more familiar with how brand communication ideas can play off location and context, and how OOH can deliver content, create lasting engagement, drive footfall and drive action.
Talking to creative teams about whether a campaign should be able to react to a change in weather, the time of day, the arrival of a bus or the news and where audiences will be at a particular time of day should - and, I believe, will - become more commonplace. For OOH media, this growth in awareness, as much as the physical investment in sites, could become the lasting legacy of the Olympics.
This creates the template for OOH to truly embrace the themes of digital, connectivity, flexibility and creativity. And with the continued rise of smartphones delivering technologies such as near field communication and seamless content download, consumers will have more information at their fingertips to make decisions while they are in different environments.
The evolution of the medium and the way brands think about and implement campaigns in different environments away from the home will be underpinned by robust, comparative data as an upgraded Postar comes online. This will help us better understand campaign outcomes as we more effectively track and measure people's movements.
So, an exciting year ahead - a year that will stimulate lasting change during which we will see not only robust immediate growth, but the creation of lasting opportunities as OOH becomes integrated with the connected communications landscape.
James Copley is the UK chief operating officer at Kinetic Worldwide.
This article was first published on campaignlive.co.uk
blog comments powered by

Disqus
---
Additional Information
Twitter gives brands lead generation with new cards

Twitter has announced an addition to its Twitter Cards today to allow marketers to generate leads and drive purchases and all within the space of a tweet.

It is a significant move that brings the ability for Twitter users to easily leave their contact details within expanded tweets, called the Lead Generation Card, to express interest in what a brand is offering.