---
Adwatch and Webwatch (July 4) Top 10 recall: Aldi
By Damon Collins, founder, Joint, marketingmagazine.co.uk, Tuesday, 03 July 2012 02:36PM
Honest, upfront message is making the brand relevant to the British shopper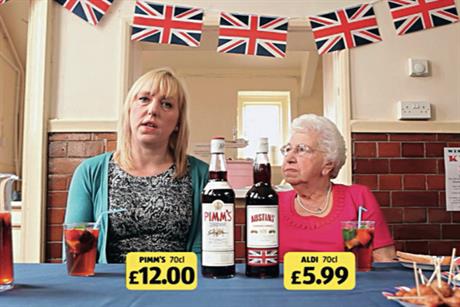 Last month, the Cote d'Azur played host to the 59th Cannes Annual Festival of Creativity. For many in the advertising industry, it's the highlight of the year.
Global CMOs and network agency chiefs gathered to be inspired by what is widely regarded as the best creative work in the world. At Cannes, purity is highly prized. Trophies are handed out to those who shepherd their work from idea to air in as 'uncontaminated' a state as possible, avoiding too many nasty logos, prices or legal supers.
Meanwhile, back in the UK, there was a war going on. On High Street Britain, businesses were fighting for their lives in the most brutal commercial conditions for years. The victors end up being those who make themselves most relevant to people.
Of course, relevance can't be gained via paid media. It's not the product of saliency. Relevance is about solving problems for people. Giving them more of what they want, and less of what they don't want.
The first step in solving people's problems is understanding that they are, in fact, people. And that they have other things to worry about than helping brands make money.
One of the businesses currently winning this war is Aldi. Its campaign is based on logic and honesty.
In essence, the brand is simply putting across the results of price-checks and taste-tests. Those results being that despite Aldi own-label products costing about half the price of their branded competitors, many people 'also like them'.
Note the language: they don't prefer them. They don't like them equally. No. They 'also like them'.
By simply laying out a few facts and allowing viewers to make up their own mind, Aldi is giving its customers what they want: effectively, parity products at irresistible prices.
So, we are left with the impression that Aldi is a fair company that understands what people want and is set up to give that to them.
All that makes it relevant. Moreover, that relevance is clearly helping Aldi commercially. It's expanding, and winning awards such as Which?'s Supermarket of the Year.
How, I wonder, would advertising with substantive supers and prices plastered all over it fare in Cannes?
Well, some of Aldi's ads were entered into the Cannes awards. They didn't win anything, but I doubt the client or its agency team lost too much sleep. When you're fighting a war, there's something a tad more important than winning awards.
Brand strategy verdict: 9 out of 10
The type of customer-focused strategy, from which many clients might shy away, due to operational or complexity reasons, is brought to life in a smart, engaging way.
Adwatch: Top 10 recall
Latest
Jun-27
Brand
Agency/TV Buyer
Recall
rank
%
1
(–)
Andrex
JWT London/Mindshare
52
2
(–)
Aldi
McCann Erickson
Manchester/
Universal McCann
Manchester
45
3
(–)
Argos
CHI&Partners/
Mindshare
44
4
(–)
Barclaycard
Bartle Bogle
Hegarty/
Maxus
42
5
-11
Sky
Sapient Nitro/
MediaCom
41
6
(19=)
The
Co-operative
TBWA\Manchester/
PHD Rocket
39
7
(–)
Tropicana
Juniper Park/OMD UK
36
8
(–)
BT
Abbott Mead Vickers
BBDO/Maxus
35
9
(8=)
Currys/PC World
M&C Saatchi/
Walker Media
33
10
(–)
Green Flag
CHI&Partners/
MediaCom
30
League Tables
This article was first published on marketingmagazine.co.uk
blog comments powered by

Disqus
---
Additional Information
Pinterest takes big step towards working with major brands

Pinterest is getting closer to big brands as it announces three new types of pin that will highlight major US retailers.

It marks Pinterest's first step towards associating images directly with brands and could be the beginning of a change on the social network that sees it become a marketplace as well as a site where people pin ideas of things they like or that inspire them.