---
Promotional Feature
Private Hear: May 2012
campaignlive.co.uk, Wednesday, 06 June 2012 10:00AM
Featuring work from Women's Aid, Microsoft Windows 7, Anthony Nolan, National Careers Service, Olympic Delivery Authority and BP.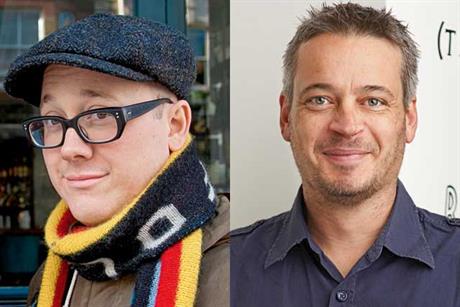 Billy Faithfull, creative director, WCRS

Simon Hepton, creative director, McCann Erickson

I know two rules for writing radio. First, via one of my all-time top-ten writers: a radio ad should never take longer to write than it does to listen to. He'll thank me for not mentioning his name and I suspect he may have been speaking ironically. He was unnaturally quick at writing ads, though…

Second, something that I said, or am about to say in my mind then write using the words in the following sentence: after being informative, good radio is either funny, clever or powerful. Or, at least, it's trying (mostly failing) to be. The very best radio ads combine two of these three things. All three would be the Holy Grail.

Living in East London, I often wake up in a cold sweat wondering how the Olympics will affect me. So I love the Olympic Delivery Authority's poster campaign on the Tube that makes me swallow bad news by illustrating it in cartoon form (I like the one with dressage horses on the escalator, guys!). The radio version falls a tad flat, though, with its public announcements about horses, Greco-Roman wrestlers and synchronised swimmers clogging my London. More suited to the visual medium, methinks. So, half a tick out of three on the scorecard, in the funny box.

More Olympic fever (retching yet?) with BP flogging a promotion straight out of the 70s. I bet the Olympic medallions are well classy. The ad, in which the family dog gets hold of Steve Redgrave, sadly isn't. Not the actual Steve Redgrave, guys – the medallion. With Steve's face on it. You idiots. Quarter of a tick in the funny box?

While the ubiquitous voiceover man Peter Dickson's descendents are eating Fabergé eggs for breakfast, our progeny will curse us for giving The X Factor's big mouth all the money in England. But, here, someone's done a good one, using that voice in an inappropriate setting. Here, he's a hotel porter – a job from a previous life. It's a really neat solution for the National Careers Service and, on the basis that the campaign continues, I'll tick two boxes: funny and clever.

Look, a simple ad! No, it's gone… did anyone take a picture? Microsoft Windows 7's offering is dead simple. And clever (quite). And funny (rather). A man speaks in a variety of strange ways to illustrate that rubbish old Windows 6 PCs may experience some slow processor effects. Niceness. And sort of old-fashioned, in a good way. Oh lordy, do simple ads feel old-fashioned nowadays?

The last two get a head start in the funny-clever-powerful triangle.

Take Anthony Nolan, which I now know find bone marrow matches for people with leukaemia. They illustrate this cleverly (tick) and powerfully (tick) when the voices of an ill man and his donor emerge from a cacophony of voices. It's radio craft-a-go-go. Kind of been done before, but expertly applied here – it deserves all the ticked boxes and awards it will no doubt get. And does a great job for the client and the disease.

Women's Aid is another story. Somewhere buried in 70 seconds of mild confusion is a nugget of gold, but it appears to open with a voiceover reading the brief, then go into the ad, end and then start the ad again. You could easily edit the middle bit into an incredibly disturbing and powerful ad. For the victims of domestic abuse, I hope you do.

Last year, I had a motorcycle accident. Funnily enough, as I somersaulted over my handlebars and my face implanted the asphalt, I wasn't thinking to myself: "Oh brilliant, now I'll be able to rediscover the joy of listening to radio again while I travel to and from the station." But that's what happened and radio is now my faithful companion on many a journey. So, it is with great pleasure that I review this month's selection of radio ads.

First out of the blocks is a duo of ads with an Olympic theme. To start off with, it's the BP medallions promotion. A family dog seems to have taken a shine to a kid's Steve Redgrave BP medallion and some "Fenton!"-style comedic antics ensue as his dad tries to get it back. It's a real family angle – even Bernard the dog wants to get involved in the 2012 celebrations.

Taking a similarly wholesome tone, the Olympic Delivery Authority ad for getaheadofthegames.com tries to make light of the fact that it will be almost impossible to travel anywhere during the Olympics, using nicely imagined audiovisualisations such as a "not-so-synchronised" swim team spotted dispersed along the Old Kent Road and equestrian horse teams shuffling down Tube platforms. It's a positive spin on what is essentially a negative message, so a good job, I guess.

Both are neatly executed, but standing out in the plethora of Olympic-themed ads is certainly going to be a challenge for all.

Next up is a pair of charitable efforts, first for Women's Aid. A harrowing cry to get us to stop the sounds of abuse coming from a neighbour's home, this ad plays out the distressing sounds of a violent relationship next door. It's a traditional way of getting the message across and I wouldn't dare criticise such a worthy cause. It is difficult listening and I really hope it does the job.

Then we have the ad for Anthony Nolan. This uses the clever technique of overlaying voices to illustrate the many conversations and frustrations of finding the right stem cell and bone marrow transplant donors, until two voices satisfyingly converge at the end as they solve the puzzle of finding the perfect match. It's a good idea. Although a bit more clarity as to who it's aimed at and what exactly they are asking us to do might help.

And so on to the National Careers Service ad, in which a hotel porter with an overwhelmingly dramatic flair for welcoming guests to his establishment goes from speaking like a voiceover artist in his day job to becoming an actual voiceover artist for a living. I like it. It's silly, but with a serious point: telling us to realise our potential. And it seems like the sort of thing the troubled twenties might take notice of. We can only hope.

Finally, the gold medal goes to… the Microsoft Windows 7 ad. This is a clever idea that illustrates why you should finally upgrade your elderly, stuttering Windows 95 operating system for the latest Windows 7 software. After the stopping, starting, stalling words of the first half of the ad, the smooth, clearly worked solution makes you wonder why on earth you ever put up with slow computers in the first place. Remember, the views and opinions expressed here are those of the author and do not necessarily reflect those of anyone else.
Women's Aid 'call to stop' by AMV BBDO
Client: Teresa Parker, press and publicity manager, Women's Aid
Brief: Help combat silence on domestic violence in London
Agency: Abbott Mead Vickers BBDO
Creative team: Steve Jones, Martin Loraine
Producers: Rebecca Scharf, Claire Toms
Sound studio: 750mph
Engineer: Ben Gulvin
Campaign exposure: LBC 97.3
Microsoft Windows 7 'vari-speed' by Wunderman, London
Client: Clare Faulconer, Windows marketing manager, Microsoft
Brief: Increase purchase of Windows 7 PCs
Agency: Wunderman London
Creative: Kelvin Tillinghast
Producer: Hayley Lewis
Sound studio: Global Radio
Engineer: Justin Sanders
Campaign exposure: Radio
Anthony Nolan 'perfect match' by Albion, London
Client: Chrystyna Chymera, marketing manager, Anthony Nolan
Brief: Increase awareness about Anthony Nolan's work through bringing to life the journey that a blood stem cell or bone marrow transplant recipient can go on before they find a donor
Agency: Albion London
Creative team: Debs Gerrard, Dave Mygind
Producer: Petrina Kilby
Sound studio: 750mph
Engineer: Gary Walker
Campaign exposure: Radio
National Careers Service 'porter' by Leo Burnett
Client: John Minton, head of skills marketing, Skills Funding Agency
Brief: Launch the National Careers Service
Agency: Leo Burnett
Creative team: Alex Moore, Lewis Beaton, Tony Malcolm, Guy Moore
Producers: Adam Furman, Kirsten Kates
Sound studio: Factory
Engineers: Anthony Moore, Sam Robson, Daniel Beckwith
Campaign exposure: Radio
Olympic Delivery Authority 'phase one' by M&C Saatchi
Client: Terri Lynam, marketing communications lead, Olympic Delivery Authority
Brief: Raise awareness of the impact of the Olympics on everyday life
Agency: M&C Saatchi
Creative team: Joe Miller, Tristan Cornelius
Producer: Simon Blaxland
Sound studio: Soho Square Studios
Engineer: Adam Smyth
Campaign exposure: London radio
BP 'dog' by Ogilvy & Mather
Client: Sue Horler, UK fuels communications and promotions manager, BP
Brief: Promote The Legends Collection, getting people to pull into the forecourt to pick them up
Agency: Ogilvy & Mather
Creative team: Will Marsden, Jordan Down
Producer: Sarah Moore
Sound studio: Wave Studios
Engineer: Dugal Macdiarmid
Campaign exposure: Radio
Click here to view the Private Hear archive
Add to Private Hear showcase
This article was first published on campaignlive.co.uk
blog comments powered by

Disqus
---
Additional Information
Highest rated
Agency: VCCP

Rating: 5.0

Rating: 5.0
Asia takes centre stage for ecommerce

According to a recent global survey by eMarketer, 2012 saw B2C ecommerce sales in the Asia-Pacific region grow more than 33% to $332.46 billion.

The same report predicts that this year, the region will see another sharp hike with sales increasing by more than 30% to over $433 billion—accounting for over one-third of all global B2C ecommerce sales. This will put the Asia-Pacific in pole position in global B2C ecommerce sales, for the first time, surpassing even North America.